One at a Time: College of Nursing Team Tackles Health Disparities
By Rebecca Walsh
Communications Manager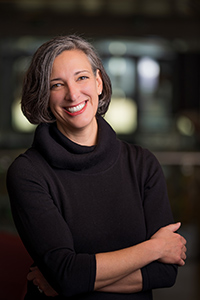 As an undergraduate student, University of Utah College of Nursing Associate Professor Andrea Wallace studied psychology and biology. So it makes sense that she has dedicated her nursing career to making healthcare work for patients.
Healthcare providers know that the social determinants of health—access to healthy food, pharmacies, transportation and childcare—often have greater impact on patients' wellness than the care they receive in a clinic or hospital.
With that in mind, Wallace's research team—which includes College of Nursing Associate Professors Brenda Luther and Jia-Wen Guo—is working in partnership with United Way of Salt Lake's 211 program to follow up with screened patients who need a little extra support once they are discharged.
"Patients might have told us one thing, but there are always more needs behind the one you uncover," says Luther. "If a person had one need, they had four." United Way maintains a database of 10,000 referral agencies—from free transportation services to food pantries.
A graduate of the University of Colorado in Boulder and Denver Health Sciences, Wallace's primary research objective is to design high quality chronic healthcare service interventions that can be administered during routine clinic visits and will narrow the gaps in patients' health outcomes. Her research studies have focused on the quality of care for chronic diseases--asthma, diabetes, depression, back pain. Currently, she is studying how best to account for patients' social resources during routine discharge planning and connect patients with services
in their home communities.
"We've known for a long time that the majority of health outcomes are determined in the context of patients' daily lives, not by what we do during clinic or hospital visits," Wallace says. "We are just beginning to understand how to incorporate this awareness into clinical work. "Developing effective strategies to foster communication between patients, families and healthcare teams is not only likely to improve health outcomes, but it is personally satisfying for me as a nurse and researcher."
After two years of post-doctoral studies in healthcare cost, quality and outcomes at the University of North Carolina in Chapel Hill, she joined the faculty at the University of New Mexico College of Nursing in Albuquerque, followed by an appointment at the University of Iowa College of Nursing. At the University of Utah, Professor Wallace teaches in the DNP and PhD programs, mentors division faculty and helps coordinate
the college's education programs.
Wallace is one of 10 national experts appointed to the NIH working group on implementation methodology and serves on scientific review panels for the Agency for Healthcare Research and Quality (AHRQ) and the Patient-Centered Outcomes Research Institution (PCORI). She also serves on the United Way of Utah 2-1-1 steering committee.